Bridgeway Community Connect
The importance in sharing services which support community members in need, was the driving force behind the creation of the BCC. This program is designed to join the networks of local agencies, partner organizations and provide essential information to help vulnerable people get connected to the resources they need. For years, there has been a gap in fulfilling the full spectrum of services for our clients or clients of our partner organizations who needed additional support but did not qualify for various reasons
Purpose: "Our purpose is to provide coordination of care and case management services to our community members who are affected by the social determinants of health. We aim to create and facilitate access to services based on the individual needs of community members; while also, focusing on the reduction of barriers by working in partnership with community partners and agencies to meet the identified needs of our community members."
Bridgeway Community Connect (BCC) consist of a team of:
Care Coordinators (Certified Alcohol & Drug Counselor/CADC) who are certified to screen, assess, diagnose, and treat substance use disorders by utilizing evidenced based practices and motivational interviewing techniques.
Care Coordinators (Licensed Clinical Social Workers/LCSW, Clinical Social Workers Associates/CSWA and/or Qualified Mental Health Professionals) who are trained in social work theories and practices that address social inequality, inequity, and injustice to support marginalized group and populations. LCSW's, CSWA's and QMHP's are qualified and trained on the assessment, diagnosis, treatment, and prevention of mental illness, emotional, and other behavioral disturbances. Individual, group and family therapy are common treatment modalities.
Navigators (Certified Recovery Mentors/CRM) who are trained to screen individuals for social determinants of health and support an individual navigate services and resources, provide skills training for independent living, track and monitor individual progress, and engage with community members through outreach services.
We provide 24-hour-a-day support and resources through our Care Coordinators and Navigators. The office hours will be Monday-Friday from 8:00 am-8:00 pm and Saturday and Sunday from 8:00 am – 6:00 pm.
Our navigator will complete a screening immediately upon first contact whether in person or by phone to identify an individual's unique needs. Once the screening is complete, the individual will be referred to a care Coordinator who will prioritize and develop an individualized action plan to address the needs. Our navigators will provide community outreach, support, and mentoring as requested for individuals and their families. Navigators are available to transport individuals to community resources.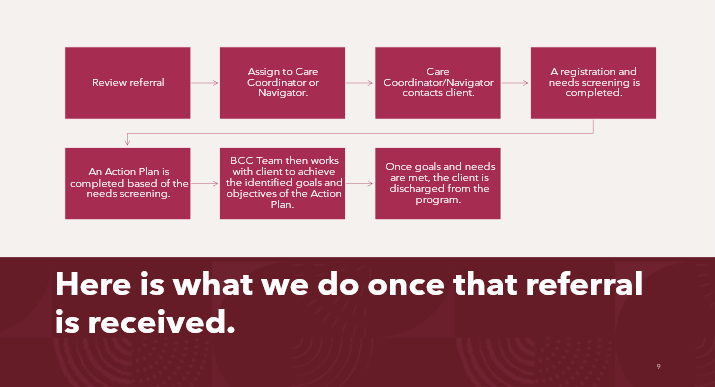 All members of the Bridgeway Community Connect Team will be able to assist individuals with applying for Oregon Health Plan.
We will provide services to any community member regardless of race, ethnicity, gender, sexual orientation, economic class, ability, with a particular focus on individuals who are most impacted by the social determinants of health and have an identified need they require support in being met. Insurance is not required nor a barrier to receive services from the Bridgeway Community Connect Team.
The only requirement is that an individual have an identified need that requires coordination of care, resource navigation, or case management that is the result of being impacted by social determinants of health. An individual does not have to be involved in treatment services to receive services from Bridgeway Community Connect.
The length of engagement with the Bridgeway Community Connect team is determined by the individual and counselor and can vary depending on the needs of the individual. Successful transition from the program happens when the individual has gained access and stability with services they were once struggling with.